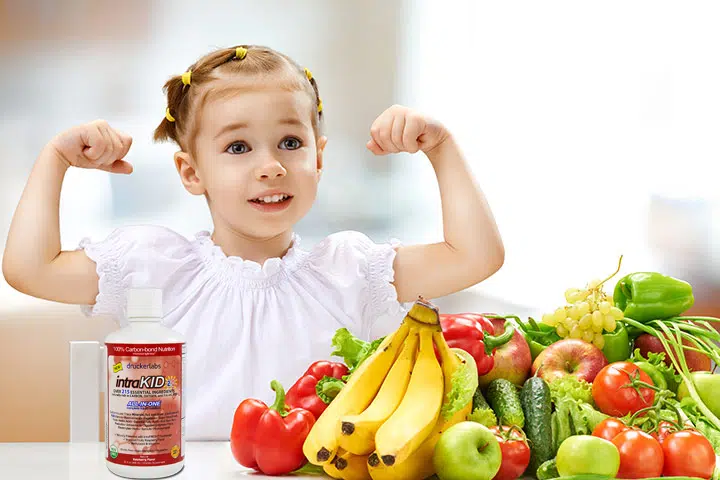 CHILDREN'S ORGANIC
MULTIVITAMIN
intraKID 2.0 is the most comprehensive organic liquid multivitamin for children which provides an array of vitamins, trace and macro minerals, probiotics, antioxidants, digestive enzymes, fruits, vegetables, essential fatty acids, bioflavonoids, amino acids and much more!
Recommended for ages 4 – 12

NATURAL INGREDIENTS
Contains over 215 organic ingredients that growing bodies need most.

INCREASED ENERGY
Supports healthy energy, strength, stamina and stress management

GREAT TASTE
Unbelievably great-tasting raspberry flavoured formula that kids will love.

IMMUNITY
Helps the immune system by boosting nervous response & regulating blood flow in the body.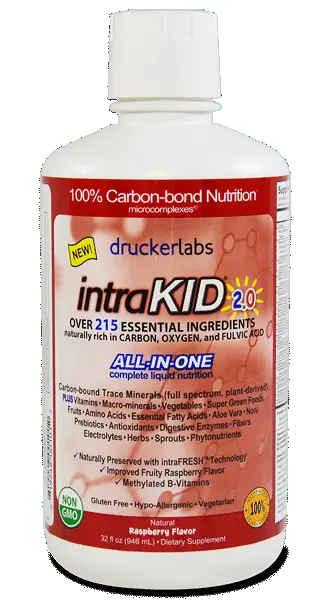 NON-GMO
Made without ingredients that were derived from genetically engineered organisms.

CONTAINS ANTIOXIDANTS
Ingredients that can prevent or slow damage to cells caused by free radicals.

FREE OF HARMFUL CHEMICALS
NO additives, NO gluten  & NO excipients.

VEGETARIAN and HYPOALLERGENIC
ideal for those with sensitivities

intraKID 2.0 is created using 215+ finest and purest ingredients obtainable using an innovative and proprietary cold-fill manufacturing process called intraCELL Technology which allows ingredients to be Organically-bound to retain their maximum nutritional strength and effectiveness.
To see the full list of ingredients, click here.
This is the only food supplement on the market that I have found is all natural and contains all the vitamins needed in our daily diet (which we are largely deficient in) from A – Z.
Excellent product and quick shipping to Dubai!
The ingredients look wonderful, no need to take any other supplements.  Really good product
Thank you for fast service and good quality!!!

FREE UK DELIVERY

WORLDWIDE SHIPPING
Is intraKID vegetarian or vegan?
intraKID is a vegetarian all-in-one dietary supplement for children.
How long is a bottle shelf stable?
There's an expiry date on the bottom of every bottle and that date is applicable for unopened bottled only. Once opened, should be stored in fridge and consumed in 30-40 days.
How many servings are there per intraKID bottle?
The full-sized bottles contain 32 servings and the travel-sized bottles contain 2 servings.
Why should I refrigerate intraKID after opening?
In order to reduce the oxidation of intraKID, it is recommended that you refrigerate the product after opening. Refrigeration slows down this natural process.
Should I purchase intraKID through Amazon or eBay?
We do not recommend that you purchase our products from online retailers found on Amazon or eBay. These retailers are not authorized distributors of our intraLINE products. You may receive product that has been compromised because it has expired, has not been stored optimally, has the expiration and lot identification code missing, etc. Please contact our Customer Service Team if you have additional questions or wish to locate a local authorized distributor.